Aleksey Soldatenko
Co-founder and Programs Director of the International Institute for Regional Media and Information, Owner and Director of Image-Rost PR agency, and Programs Director for 'Journalists' Initiative Association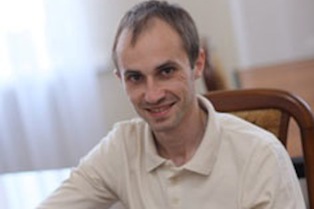 Aleksey is a professional in Public Relations and Media Relations. He is co-founder and Programs Director of the International Institute for Regional Media and Information. In addition he is owner and Director of the Image-Rost PR Agency, Programs Director of the "Journalists' Initiative" Association. He is a trainer and training organizer with more than 10 years experience, working with his organizations on the training programs in cooperation with or sponsored by UNESCO, Council of Europe, MATRA, British Embassy, European Journalism Centre amongst others.
Aleksey is a principal facilitator in the international Intercultural project of the British Council. Within the project he has trained 60 'navigators' from all over Ukraine, and worked as a facilitator in the international Navigators delivery team in Bratislava (Slovakia).
As a John Smith Fellow, Aleksey has made presentations internationally, including at Tony Blair's residence (2001). He has been instrumental in various programs in Budapest, Oxford, London, Edinburgh, Leipzig, Paris, Maastricht.
He is also co-author of the book "Profession: Journalists".