Alexei Tulbure
Executive Director of the Helsinki Citizens Assembly of Moldova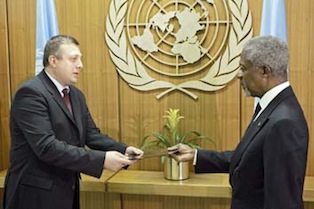 Since 2008, after Alexei finished his diplomatic career, he has been the Executive Director of Helsinki Citizens Assembly of Moldova – an NGO working to advance fundamental rights and freedoms, peace and democracy.
In September 2006 Alexei was appointed Permanent Representative of the Republic of Moldova to the United Nations. Alexei was elected Chairman of the UN's Commission for Social Development (46th Session), and Chairman of the VI Committee of the UN General Assembly (62nd Session) – one of the main committees of the UN General Assembly dealing specifically with international legal matters. Alexei is the first Moldovan to be elected to such a role.
In 2003 Alexei chaired the Committee of Ministers of the Council of Europe – the first Moldovan to do so. During his tenure in Strasbourg Alexei succeeding in convincing the Committee of Ministers to address the issue of human rights specifically of those living in the zones of frozen conflicts in Europe, whose rights are not protected either nationally or internationally. As a result, the Committee of Ministers of the Council of Europe adopted the first ever report on the human rights situation in such a zone – in Transdniestria (Moldova).