Aliaksandr Filipau
Dean, Extended Education Faculty at Belarusian State University of Culture and Arts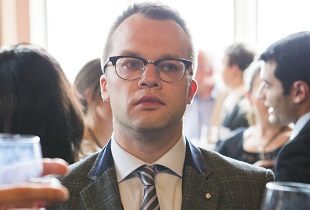 Aliaksandr is the Dean of Extended Education Faculty at the Belarusian State University of Culture and Arts. In parallel, he is an expert at the Liberal Club, a Minsk based think-tank.
He is also a permanent contributor to the BelarusDigest website, which provides non-partisan analysis of Belarus-related events written specifically for an English-language readership and he has PhD in Political Studies.
Aliaksandr's sphere of academic interest includes Belarusian foreign and social policy, as well as issues of public administration in authoritarian regimes. He is an author of number of academic and analytical articles, policy and research papers.
His overall vision is to make Liberal Club into the leading, most influential think tank in Belarus. Specifically, his action plan is to develop Liberal Club's work in promoting good governance and contributing to public administration reform. He will do this by engaging with public officials on policy, introducing relevant international experience, preparing alternative policy recommendations, drafting a study book and running short courses at higher and professional educational institutions for students and those already working in public administration.