Andriy Shevchenko, 2013 Fellow
Ukrainian Ambassador to Canada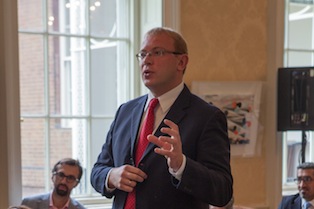 Andriy Shevchenko was appointed as the Ukrainian Ambassador to Canada in 2015. Prior to this he was a Member of Parliament in Ukraine.
He was first elected in 2006, winning re‐election in 2007 and 2012 as a member of the Batkivshchyna Party led by Yulia Tymoshenko. He has served as Chairman of the Free Speech Committee and was the youngest Committee Chairman of the Ukrainian Parliament in history. He currently serves as the First Deputy Chairman of the Human Rights Committee. As an MP, Andriy's signature achievements have been the passage of the Access to Public Information Act 2011 and the Civil Organisations Act 2012, both of which he was a sponsor for.
Prior to his entry into politics, Andriy was a journalist, working for 1+1, Noviy Canal and Voice of America on television as well as other Ukrainian and international media outlets. In 2003 Andriy was a founder and Editor‐In‐Chief and presenter for the 5th Channel, the first 24‐hour television news channel in Ukraine. This channel had a prominent role in the coverage of the Orange Revolution in 2004. Andriy had previously been chairman of the Kiev Independent Media Union, which led protests against the censorship policies of the Kuchma leadership.
Andriy's Action Plan focused on the passage of the Peaceful Assemblies Act in Ukraine. This will ensure the right to free, peaceful protest in Ukraine.