Anna Makhlay, 2010 Fellow
Personal Assistant to Yulia Tymoshenko, Leader of the All-Ukrainian Union 'Batkivhschyna' and Assistant Consultant to a Member of Parliament of the Verkhovna Rada of Ukraine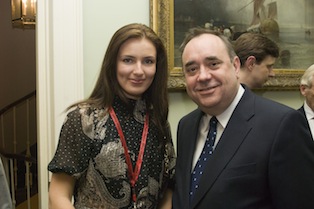 Anna is the Personal Assistant to Yulia Tymoshenko, the Leader of the All-Ukrainian Union "Batkivshchyna". Anna organizes the schedule of Ms. Tymoshenko, prepares meetings and conferences and liaises with the media and other political figures.
She is also Assistant-Consultant to a Member of Parliament (Verkhovna Rada of Ukraine). The MP that Anna supports is Chairman of the Legislative Support of Law Enforcement Committee. This Committee is responsible for:
• the drafting of criminal and administrative legislation;
• organising the work of the Prosecutor's office and other bodies of inquiry and investigation;
• the prevention of criminal and administrative offences, especially among those who have already been accused of different crimes;
• social defence and insurance of law enforcement employees and the members of their families.
Anna's responsibilities as Assistant-Consultant include: the organisation of, and participation in, regular Committee hearings; representation of the Chairman during sessions of other parliamentary committees; acting as Secretary of Public Council and Scientific-Expert Council both of which function within the framework of the Committee. She conducts consultations on contentious issues and informs the MP of the complaints of the people and proposes solutions to those problems.