Archil Bakuradze
CEO of JSC Mobile Finance Eurasia, Founder and Chairman of Crystal and Chair of the IABP Business and Economic Center (Georgian Parliament)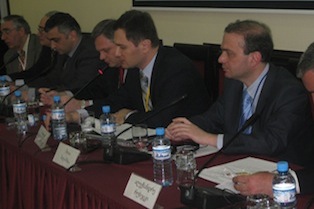 Archil is CEO of JSC Mobile Finance Eurasia, a new telecommunication management consultancy working in Eastern Europe, South Caucasus and the Central Asia region where there is a market of about 200 million mobile phone users.
He is Founder and Chairman of the Supervisory Board of the JSC "Crystal", an internationally financed microfinance institution active in Georgia.
His expertise in public affairs, public policy and legislative dialogue derive from his former role as the Deputy Secretary General of the International Association of Business and Parliament (London) having led the Association's projects in emerging economies (Armenia, Georgia, Moldova, Ukraine and the Sultanate of Oman). Currently Archil chairs the IABP Business and Economic Centre in the Parliament of Georgia. He holds positions on the Boards of several business and non-profit institutions. For his contribution to the IDP community (Internally Displaced People), he received an international award from the Dutch Refugee Foundation in 2003. As a Chevening scholar Archil holds an MBA degree from Lancaster University (UK).