Armen Martirosyan
Portfolio Manager for the Environmental Governance UNDP, Republic of Armenia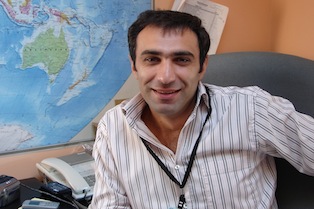 Armen is Portfolio Manager for the UNDP Environmental Governance. Portfolio deals with energy and environment related issues and functions through the following UNDP clusters – Climate Change and Atmosphere Protection, Conservation and Sustainable Use of Natural resources and Disaster Prevention and Recovery.
Armen's responsibilities include formulation and alignment of the UNDP's environmental governance strategy with national priorities, provision of policy advice services to partners on the basis of political, social, economic and environmental analyses and supporting knowledge management systems, liaising with partners about environmental governance on the basis of international norms, standards, conventions, treaties and human-rights instruments.
Previously Armen was Head of the NGO Support Programme then Programmes Officer for the Regional Environmental Centre for the Caucasus located in Tbilisi serving Armenia, Azerbaijan and Georgia.