Armen Shahbazyan
Co-ordinator of the OSCE Program Implementation Presence in the Syunik Region, Republic of Armenia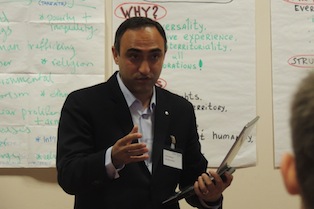 Armen is responsible for the coordination of the OSCE programme implementation presence in Syunik region of Armenia, providing advice and support in addressing economic and environmental security issues of the Syunik Region. This involves the development of alternative industries (e.g. hospitality, agriculture, renewable energy) using a number of different approaches.
Currently about 90% of Syunik's industrial output is generated by mining. Armen helps the Government to diversify and stabilize the regional economy by developing other industries. As a John Smith Fellow in 2012 Armen's aim was to learn more about regional policymaking and economic diversification in the UK to help address the economic security challenges in Syunik.
During his attachment programme Armen met Felix Kumi-Ampofo, Economic Evidence Manager from Leeds City Council, from whom he learned about evidence-based policymaking. Upon his return to Syunik, Armen worked to prepare a model of diversification based on the evidence-based method while maintaining the relationship he had made with his attachment host. As such, in November 2013 Felix was selected as an expert consultant for the delivery of the model in the region, spending 11 days in Armenia where he assessed the local capacities for preparation of econometric model and provided a report detailing terms of reference and recommendations for going forward. He also delivered a speech at the First Investment Forum in the Syunik region explaining the benefits of econometric analysis for the diversification of the regional economy – which incidentally is the main focus of the Armenian Government's policy to mitigate economic security risks in the country. The OSCE Office in Yerevan has supported the initiative and a pilot was launched in Syunik in April 2015. Upon the pilot's completion Armen's goal is to encourage the Government and other donors to roll out the model across the whole country. He has already secured the support of the Vice-Prime Minister in this respect. Armen is confident that this model will provide more job opportunities, income and tax revenues for the region – thus increasing stability and the quality of life for citizens across Armenia.