Artak Ghazaryan
Head of the State Social Security Administration of Armenia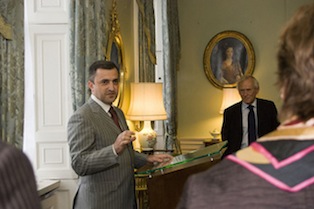 Artak is currently the Head of the State Social Security Administration of Armenia.
Prior to this, Artak was CEO of the Pension System Awareness Center and Director of the Competitive Armenian Private Sector Project (CAPS), a USAID-funded project based on a cluster approach which focuses on improving Armenia´s business environment by fostering co-operation and public-private partnerships in the ICT, tourism and pharmaceuticals sectors. The CAPS project helps the private sector and the Government of Armenia to design policies on how to apply new technologies to ensure good governance, improve access to information, provide better services and reduce corruption. It also works with educational institutions in the U.S. and Armenia to develop curricula for future managers in both the public and private sectors.
Artak was closely involved in designing reform of macroeconomic policy agendas for the government of Armenia. In 2007 he led a group of local and international experts drafting the National ICT and information society development Strategy for the Government. This document was approved by the Armenian Government in August 2008.