Artyom Geghamyan
Deputy Minister of Justice for Armenia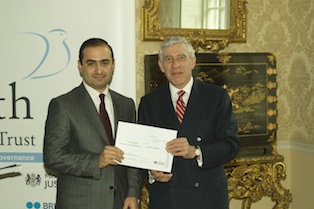 Artyom Geghamyan is Deputy Minister of Justice for Armenia. He was appointed to this position in June 2014. Before that he was working as a Research fellow at the Carr Center for Human Rights Policy, Harvard Kennedy School of Government.
As a Deputy Minister for Justice he is responsible for the Ministry's policies in the following areas:
International cooperation
European neighborhood policy
Eurasian integration
Extradition and legal cooperation
International treaties
Representing the Government before international organizations
Implementation of Legal and Judicial Reforms
Public Notary Services
Artyom has written scholarly articles on the issues of EU law and human rights, taught courses on the European Convention on Human Rights and the practice of the European Court of Human Rights at Yerevan State University.
Artyom was previously based in Strasbourg as Head of the Department for Relations with the European Court of Human Rights at the Ministry of Justice of the Republic of Armenia. The Department is responsible for developing the Government's official position and assisting the Government Agent in representing Armenia before the European Court. It also supervises the implementation by domestic authorities of the Court's judgments and provides recommendations to public authorities on improving administrative and law-enforcement practices. The Department deals with a wide range of human rights issues, particularly handling applications and claims concerning human rights violations.