Baktygoul Koubanytchbekova
Staff Attorney/ Legal Advisor at the US Embassy in the Kyrgyz Republic and Director of the Southern Professional Advocates Training Center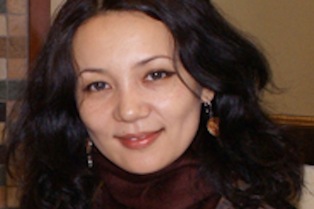 Baktygoul is Staff Attorney/Legal Advisor at the U.S. Embassy in the Kyrgyz Republic. She is also Director of the Southern Professional Advocates Training Center.
She has held a variety positions across the globe – Associate Field Officer for the UNHCR Field Office in Zugdidi, Georgia (2008); intern at the United Nations Headquarters in New York in the Office of General Legal Affairs (2009); Assistant Protection Officer for the UNHCR Field Office in Osh, Kyrgyzstan (2006); and Executive Director of the Central Asian Alliance for Water (2005).
At the time of the 2004 Programme she was Head of the Bureau for Social and Legal Assistance to Refugees in the Osh office of the Young Lawyers of Kyrgyzstan Association.
During 2008/9 Baktygoul studied law (LLM progam) at Columbia University, New York. She studied Policy Studies (MSc) at the University of Edinburgh (2006).