Bohdan Kolodkevych, 2009 Fellow
PR-Manager for the Tourist Complex 'Akva-Plus' and Party activist for the 'Batkivshchya' political party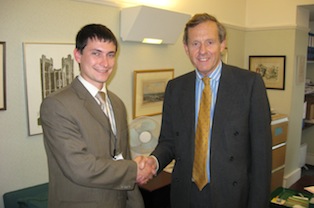 Bohdan is a PR-manager for the Tourist Complex "Akva-Plus" and also a party activist for the "Batkivshchya" political party, the party of Yulia Tymoshenko, former Prime-Minister of Ukraine.
Previously Bohdan was Head of the Information and Analytical Centre in the Chernivtsi Regional Office of the "VO" Batkivshchyna political party. This Department plans and analyses the Party´s social policy and political activities, monitors media and Internet coverage, manages media relations and maintains relationships with other public organisations and political parties.
He is also Adviser to the Leader of the Chernivtsi regional youth organization "Bat´kivshchyna Moloda".