Daniil Fedorchuk, 2004 Fellow
Lawyer of the Commissioner of the Verkhovna Rada of Ukraine for Human Rights (Counsellor of the Ukrainian Ombudsman)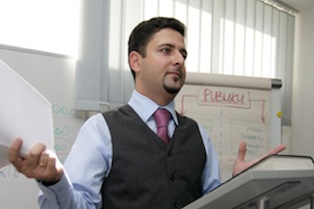 Daniil is a Lawyer at the Kyiv office of Beiten Burkhardt Rechtsanwaltsgesellschaft mbH (Attorneys-at-Law) specializing primarily in the issues of corporate, general commercial, and insolvency law as well as international commercial arbitration.
At the same time, Daniil combines legal practice with teaching as an Associate Professor (Docent) at the Law Faculty of the National University "Kyiv-Mohyla Academy".
From 2002 to 2008, Daniil taught at the Economics and Law Faculty of Donetsk National University and acted as a director of the International and European Law Centre which was responsible for coordination of international legal research, academic exchanges, student activities (such as participation in moot court competitions) as well as maintenance of an international law library.
Daniil is the author of a number of publications on the topics of law and legal education.