David Magradze
Head of the Cabinet of the Speaker of the Parliament of Georgia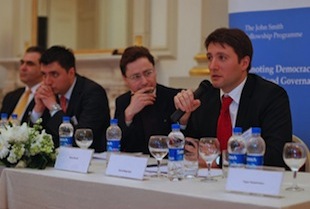 David is Head of the Cabinet of the Speaker of the Parliament of Georgia.
Before this he was Adviser at Foreign Affairs Service at the Chancellery of the Government of Georgia. He has also held positions as Head of Legal and External Affairs at SGI (Sustainable Growth Investments), Chief of Party of the Judicial Administration and Management Reform Project (JAMR) at DPK Consulting, Deputy Foreign Minister of Georgia and was previously Government Affairs Advisor to BP (2005 – 2008). Prior to this he was Deputy Chief on the IRIS Georgia Rule of Law project (2000-2005) and was Head of the Department of International Relations and Legal Drafting of the Council of Justice of Georgia (1997-2000).
David has studied Constitutional Law in the Central European University and Law in Tbilisi State University, and Public Policy (MA) at University College London.