Dennis Bazilevych, 2006 Fellow
Executive Relations Manager for the Parliamentary Development Program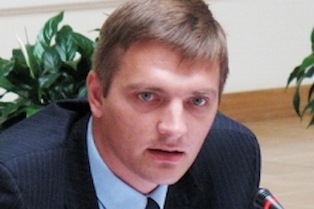 Dennis works for the Parliamentary Development Program (PDP). An economist by training, Dennis came to PDP with several years experience in the Ukrainian Executive Government structures (President's Secretariat and Cabinet of Ministers) and two years experience assisting a Chair of the VR Subcommittee on Public Debt Management of the Budget Committee.
During a five-month fellowship working for a member of the US Congress (assigned to the Committee on Transportation and Infrastructure) as the first Ukrainian Fulbright Congressional Fellow (in 2008) he was trained in constituency relations, development of policy briefs and preparation for committee hearings.
In 2006, as a John Smith Fellow, he gained first-hand experience and understanding of the British system of governance meeting with key people from the Prime-Minister's Office, Strategy Unit under the Prime-Minister, Foreign Office, Treasury, and many others. Dennis completed his Masters in International Economics at State Economic University in Odessa, studied for his Ph.D. at Kyiv State University in the Institute of International Relations and completed the two-week intensive course of the Public Affairs and Advocacy Institute of the American University.
As the Executive Relations Manager at PDP Dennis serves as principle liaison for the project and is responsible for developing strategies and mechanisms for improved legislative development based on research, analysis and public input. He also assists in the coordination and management of the executive branch participation in the activities of policy development working group and participates in the introduction and management of an internship program in executive offices.
Denys has established an NGO called the Professional Lobbying and Advocacy Institute. He is Chair of the Institute.