Denys Zhmayev, 2003 Fellow
Director General of Alfa-Balance and Councillor of Cherkasy City Council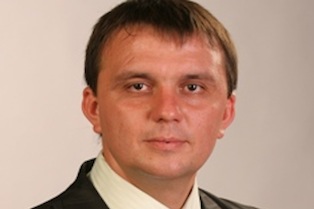 On 31st October 2010, Denys was elected as a Councillor to Cherkasy city council (a city in central Ukraine).
He is a Director General of the company "Alfa-Balance". The company has a wide range of business directions. Denys oversees the management of Alfa-Balance. Working for almost 6 years in private business, he remains an active participant of the regional NGO "Civil Movement with Belief in Future". This NGO is a local organization working to promote the rights of citizens in relationship to local government.
He previous posts include: Director of the Cherkasy regional branch of the Public Corporation Insurance Company 'UNIVERSALNA', Deputy Director of the commercial company PARUS-2 Ltd, and Regional Coordinator of the Ukrainian NGO 'Democratic Youth'.
In 2002 Denys was elected as a Member of the Cherkasy City Council.