Diana Ghazaryan
Founder of the 'R-Insights Research and Consulting Company'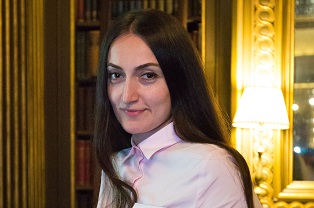 Diana is a Research Consultant and Founder of the R-Insights Research and Consulting Company. Previously she was Assistant to the Prime Minister of Armenia, until the May 2018 change of government.
Diana is a sociologist by background with an MA in Sociology. She has held various positions in the Armenian research industry since 2002, as well as consulting on research-related issues for international organisations.
Diana's action plan focusses on promoting and facilitating evidence-based policy making, using empirical research insights. Outputs include guidelines for embedding research practice in the policy-making process, methodological notes and logical frameworks for monitoring government programmes, tracking outcomes and measuring impact. She will also advocate for embedding monitoring and evaluation as mandatory practice in central government and ministry programmes.