Ekaterine Gamakharia
Programme Development and Learning Manager at UK-based "EveryChild" branch in Georgia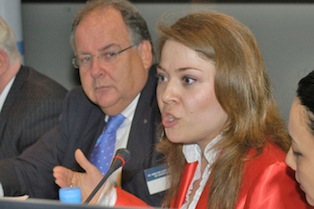 The main focus of Eka's work is on human rights, particularly those of women, IDPs (internally displaced people) and of Children. From September 2012 up to now, she works as a Programme Development and Learning Manager at the UK based "EveryChild" branch in Georgia, which promotes the Reform of Child Care System and contributes to establishing of the Social Services Network for unprotected families with children through close partnership with the government of Georgia as well as local and international organizations.
From 2008 to 2012, due to a change in her family status, she moved to Baku and worked as a freelance consultant for various local NGOs and international organizations. From 2007 to 2008 she worked as a National Consultant for the United Nations High Commissioner for Refugees (UNHCR) in Georgia, responsible for identifying the existing gaps in protection of IDPs and assisting in devising projects to remedy these gaps.
At the time of the 2006 Programme Eka was the Director of the Women's Rights/Human Rights Protection Division for the Cultural Humanitarian Fund 'Sukhumi', an NGO working to promote women's involvement in peace-building, social and political life of the country in order to improve the lives of IDPs from Abkhazia and create a favourable condition for Georgian-Abkhaz conflict resolution.
In 2006/7 Eka was awarded a Muskie Fellowship. She studied at the Indiana School of Law (IUPUI) in Indianapolis, Indiana, US on the International Human Rights Law track. In the summer of 2007 she worked as a research intern for the US Committee for Refugees and Immigrants (USCRI) in their Policy and Research Department in Washington DC.