Elnur Musayev
Senior Prosecutor in the Anti-Corruption Department at the General Prosecutor's Office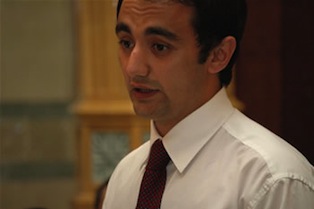 Elnur is Senior Prosecutor for the Anti-Corruption Department in the General Prosecutor's Office. He holds the rank of a Counselor of Justice.
The Anti-Corruption Department was established as part of Azerbaijan's anticorruption policy. While it is a part of the prosecution service, the ACD enjoys institutional autonomy and acts as an investigatory agency with national jurisdiction. The ACD reports to the President of the Republic of Azerbaijan via the Prosecutor-General. The Department detects, investigates and prosecutes against corruption offences and coordinates all the activities of law enforcement bodies in this field. Elnur deals with the investigation of complex corruption offences, the department's international relations, and liaising with civil society.
He is also a member of a working group on the improvement of legislation under the Anti-Corruption Commission, which is the national anticorruption strategic body. His responsibilities include developing the mechanism of implementation of the UN and Council of Europe's conventions against corruption. His contribution to the development of the National Database of Corruption Offences has been key to the success of the project, which is receiving international recognition as a best practice.
As a member of the multinational expert team, Elnur contributed to the compliance evaluation of several countries within the Istanbul Action Plan of the Anticorruption Network of the OECD. He is closely involved in the process of the GRECO evaluation of the Republic of Azerbaijan. He is currently involved in the international project on Asset Recovery.