Gela Kvashilava
Deputy Director for the Department of Information and Analysis at the Ministry of Internal Affairs and the Chairman of the Board of Directors for the Partnership for Road Safety Foundation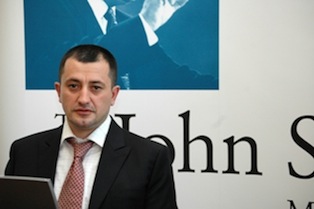 Gela is Deputy Director of the Department of Information and Analysis of the Ministry of Internal Affairs of Georgia. His main responsibilities are focused on the analysis of information relating to the improvement of the safety of Georgia.
In addition, Gela is Chairman of the Board of Directors of the Partnership for Road Safety Foundation. The Partnership for Road Safety was established by Gela with support of his attachment host the FIA Foundation in order to reduce road traffic accidents and make roads safer in Georgia.
In late 2008 Gela and the Partnership for Road Safety launched its new project – "Youth Road Safety Education" – conducted in 48 schools in Georgia. Approximately 10, 000 children and their parents participated in the project which aims to raise awareness about road safety among school children and teenagers, as well as their parents, and to change their attitudes and behaviour in the streets and when driving.
In late April 2007, the Partnership launched the UN First Global Road Safety Week in Georgia. The week long campaign received a large amount of media coverage at national and local level and succeeded in raising awareness of road safety issues in Georgia, particularly within the government.