Gigi Ugulava
Mayor of Tbilisi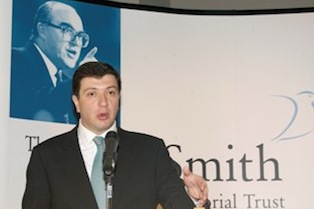 Giorgi "Gigi" Ugulava took part in the 2002 John Smith Fellowship Programme and is currently Mayor of Tbilisi – the Georgian capital – following his re-election to that post on 30 May 2010.
Gigi has held posts at Transparency International (1997-9) and the Eurasia Foundation (2000) and directed the World Bank Association of Legal and Public Education from 2001 – 2003. Following the Rose Revolution, he was appointed Deputy Minister of State Security. In April 2005 he was appointed Chief of the Administration of the President of Georgia. This was followed by an appointment to Mayor of Tbilisi on July 12, 2005. When this post became elective in 2006, he ran successfully for mayor and was elected by the Tbilisi Assembly on October 12, 2006. He successfully ran for re-election in May 2010.
In April 2008 Gigi opened the John Smith Trust's Networking Conference held in Tbilisi to discuss the theme of 'New Challenges in Western Democracies'.