Giorgi Chkheidze
Deputy Chief of Party for the "Judicial Independence and Legal Empowerment Project", East-West Management Institute and Chair of the Board of the Open Society – Georgia Foundation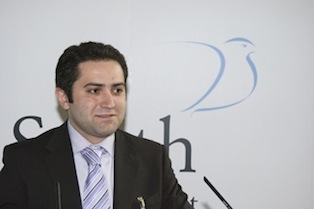 Giorgi is the Deputy Chief of Party for the "Judicial Independence and Legal Empowerment Project" – JILEP (a USAID funded initiative implemented by the East-West Management Institute) and Chair of the Board of the Open Society – Georgia Foundation (OSGF).
Giorgi is the former Executive Director (2009-2010) and Chairman (2006-2008) of the Georgian Young lawyers' Association (GYLA), one of the biggest civil society organizations in Georgia working in the field of rule of law, human rights and good governance. In 2009 Mr Chkheidze served as the Deputy Public Defender (Ombudsman) of Georgia. He used to be a member of governing boards of GYLA and the International Society for Fair Elections and Democracy (ISFED).
Mr. Chkheidze graduated from the law faculty of Tbilisi State University and completed his LLM in International Human Rights Law at the University of the West of England as a British Chevening scholar. He has also served as an invited expert-member of the National Preventive Mechanism Against Torture (created based on UN OPCAT), as Head of the Staff of the Legal Committee of the Parliament of Georgia and the head of the Legal department of the Prosecutor's Office of Georgia. Mr. Chkheidze has a number of publications in the field of human rights and gives frequent lectures on fundamental human rights and criminal justice.