Gvantsa Kvinkadze
Project Manager for the NATO Support Agency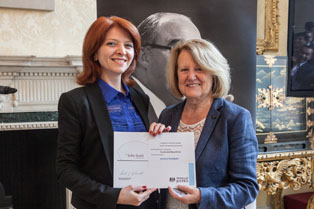 Gvantsa is a Project Manager for the NATO Support Agency (NSPA) where she is in charge of the Georgia Explosive Remnants of War Clearance Support and Medical Rehabilitation project. She is also a Supervisor of the NATO Partnership for Peace Trust Fund project in Azerbaijan.
In 2003 Gvantsa was the first Georgian ever to be employed by NATO as a Project Assistant for the NATO Maintenance and Supply Agency. She took time out in 2004 to pursue further education, gaining two master´s degrees in Public Administration from the Georgian Institute of Public Affairs and from New York University. On her return to Georgia in 2006 Gvantsa worked for two years as Chief Advisor to the Minister in the Ministry of Finance, before returning to the NSPA and taking up her current role.
Gvantsa hopes to use her Fellowship experience to better understand the UK´s policy framework with regard to security and defence. She then hopes to use this knowledge to create a forum for improved cooperation between the Ministry of Defence in Georgia, NGOs, think tanks and academic institutions. Her aim is to promote a more inclusive approach to decision making within Georgia´s Government agencies.