Hovhannes Nikoghosyan
Visiting Lecturer at the Russian-Armenian (Slavonic) University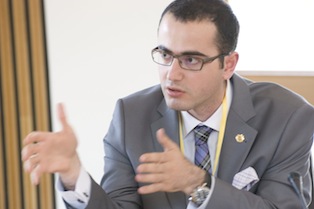 Hovhannes Nikoghosyan is currently a Visiting Lecturer at the Russian-Armenian (Slavonic) University, teaching international conflicts, security and human rights. He holds a Master's degree in International Relations and a PhD in Political Science – both from the Slavonic University.
Dr Nikoghosyan has worked within various state agencies, universities, think-tanks and international organizations over the years. Most recently, he has been a Magdalena Yesil Visiting Scholar at Sanford School of Public Policy, Duke University (Aug 2012 – June 2013)
Prior to this he worked with the Information and Public Relations Centre – a think-tank operating under the Administration of the President of the Republic of Armenia (2010-2012), and briefly headed the Applied Political Science Chair (2011-2012) at the Slavonic University. In 2010 he was a Visiting Fellow at Russia-Eurasia Program at the Center for Strategic and International Studies (2010) in Washington DC, doing a research on conflict resolution issues, which later evolved into a more extensive post-graduate research project, entitled "Humanitarian Interventions in the Modern System of Regional Conflict Resolution (1999-2008)".
In 2011 Hovhannes was involved in the project ´Karabakh: The Big Debate´ sponsored by the European Commission as part of the European Partnership for the Peaceful Settlement of the Conflict over Nagorno-Karabakh (EPNK). He has recently completed a joint research project for the Valdai Discussion Club (Moscow) devoted to the issues of global governance, to be published early 2014.