Hrayr Gyonjyan
CEO of Prosper Group and Chairman of the Board for the Customs Brokers Association, Republic of Armenia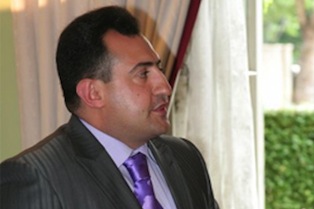 Hrayr is Chief Executive Officer of "Prosper Group", an organisation representing more than 20 British schools, colleges, and universities in Armenia. In April 2010 he was elected as Chairman of the Board of the Customs Brokers Association, Armenia.
At the time of the 2008 Programme, Hrayr was Head of the EU Technical Assistance Unit in the Ministry of Finance and Economy of the Republic of Armenia.
Within the Ministry, his duties related to the EU-Armenia National Indicative Programme 2007-2010 which seeks to support the development of relations between Armenia and the EU. The Programme relates to the European Neighbourhood Policy, and focuses in particular on regulatory reform, strengthening democratic structures, good governance and administrative capacity building.