Inna Sovsun, 2013 Fellow
First Deputy Minister of Education and Science of Ukraine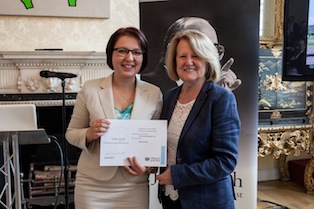 Inna Sovsun was appointed as First Deputy Minister of Education and Science of Ukraine in March 2014.
Prior to this Inna was Chairwoman and founding member of the Centre for Society Research (CSR) in Ukraine: an independent, non-profit think tank focused on promoting democracy, civic participation and sound policymaking. CSR carries out research and aims to provide expert assistance and knowledge to groups seeking to foster and inform public discourse on social problems. CSR has, under Inna´s leadership, influenced and facilitated the work of international groups focused on peaceful protest through their innovative tracking and monitoring of violations of free assembly in Ukraine.
Inna is also a senior lecturer at the National University of Kyiv-Mohyla Academy. She teaches courses in international politics and the mass media´s relationship with Government. Inna and her academic colleagues provided the catalyst for the creation of CSR as its founding members.
Inna was previously a coordinator of the ´SaveOldKyiv´ grassroots initiative, which sought to protect the architectural and cultural heritage of Kiev in the face of proposed development and growth in the city´s Peyzazhna Alley district. Starting as a project focused solely on this one site, it expanded rapidly taking Inna´s role from that of a volunteer to a full-time coordinating role, bringing her into contact with alleged corruption in the city administration and construction industry. ´SaveOldKyiv´ became a nationally-renowned organisation during Inna´s tenure, giving her a wealth of high-level campaigning experience and success.
Inna's action plan was to develop the work of CSR to focus on specific policy issues rather than the general political or economic climate – shifting the focus of her work with CSR towards education policy in Ukraine, particularly with regards to the impact of social background on the educational opportunities of Ukrainian children.