Irakli Khorbaladze
Head of the Legal Department for the Republican Party of Georgia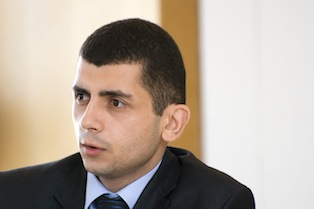 Irakli is Head of the Legal Department of the Republican Party of Georgia. The Republican Party has been active in Georgia since 1978 and is currently in opposition to Mikheil Saakashvili's government. The Republican Party is a right wing liberal party member of ELDR and Liberal International.
Irakli is keen to improve public access to public information – making it quicker, less costly and more efficient. Accessing public information is currently a lengthy and costly process with no guarantee that the information will be released. Following his John Smith Fellowship, Irakli plans to prepare a draft law and gather support for his initiative. He specifically wants to suggest revisions to the General Administrative Code of Georgia, to the Administrative Procedures Code of Georgia, and to the Code of Administrative Offences of Georgia.
He has worked as an Assistant to an MP of the Georgian Parliament and is a graduate of the Faculty of Law of the Grigol Robakidze University – Alma Mater. He has completed courses on civil, constitutional and administration law at the Georgian Young Lawyers Association.
Currently Irakli is candidate of Democratic Government and Rule of Law LL.M. in Ohio Northern University, United States of America.