Kamran Bayramov
Director of Unit for Work with Municipalities, Department for Work with Regional Government and Local Self-Government Authorities, Administration of the President of the Republic of Azerbaijan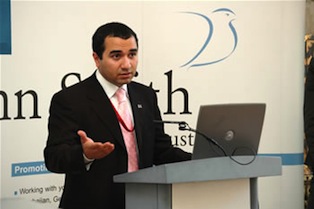 Kamran is a Director of Unit for Work with Municipalities of the Department for Work with Regional Government and Local Self-Government Authorities of the Administration of the President of the Republic of Azerbaijan.
In this capacity at the Administration of the President, Kamran deals with elaboration, review, scrutiny and assessment of laws, regulations and other legislative acts associated with local self-government. He is also actively involved in cooperation with national associations of municipalities in the field of local self-government issues.
At the time of the 2006 Fellowship Programme Kamran was a Senior Adviser to the Human Rights Division of the Ministry of Justice of Azerbaijan. Kamran's main responsibilities at the Ministry included: developing and strengthening co-operation with local and international NGOs; conducting reviews and proposals to raise public awareness concerning human rights; and acting as an observer in areas relating to the execution of amnesty and pardon acts.