Khatuna Kveselava
Founder and Board Member of the Media Development Foundation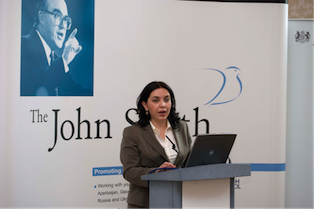 Khatuna is a Founder and Board Member of the Tbilisi based Media Development Foundation(MDF). The MDF strives to support independent, institutional and professional development of the media sector in Georgia through advocacy, monitoring and educational activities. Founded by a group of professional journalists, MDF currently works on projects aimed at introducing professional standards in journalism as well as increasing the transparency of media ownership and its influence on editorial policies. She is a key player in the planning and execution of MDF's long-term strategy and goals.
Khatuna also continues her professional career as an author and as host of weekly live talk-shows -Euroview and First Studio on the national radio channel Green Wave in Georgia.
At the time of fellowship Khatuna was a Director of the News and Social/Political Programs Department for Georgian Public Broadcasting (GPB). GPB is the national public broadcaster, currently broadcasting on two TV and two radio channels, and is governed by a board of trustees. As News Director, Khatuna used to manage one of GPB's biggest departments producing a popular TV and radio news programmes is aired throughout the day. She was also responsible for the GPB website which provides an online news service. Khatuna was a key player in the long-term strategic development of public broadcasting – generating new ideas, identifying future programming priorities, and defining the role of public broadcasting in providing public information.
She also teaches a course on Media Management at University of Georgia.