Lali Papiashvili
Member of the Constitutional Court of Georgia, Member of the Governmental Interagency Council on the Fight Against Trafficking in Persons, and Chair of the Governmental Interagency Coordination Council on Domestic Violence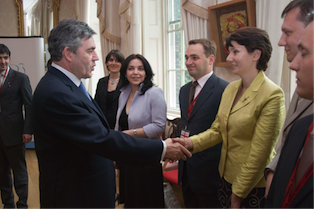 Lali is a Member of the Constitutional Court of Georgia. The Constitutional Court is a body of constitutional review, striving to maintain and enhance the ideals of democratic governance, and respect for human rights and the rule of law, in the State of Georgia. There are nine members of the court in total. She is also a Member of the Governmental Interagency Coordination Council on Fight Against Trafficking in Persons; and Chair of the Governmental Interagency Coordination Council on Domestic Violence.
Lali was an active and influential Member of Parliament since from 2004 to 2008. One of Georgia's main priorities is the protection of Human Rights, and Lali has played a key role in this area, holding a number of important positions both in and outside parliament. At the time of the 2007 Programme she was Vice Chair of the Parliament's Committee on Human Rights and Civil Integration. The Committee has a broad remit to propose legislation and monitor developments, receives petitions from the public on alleged human rights violations, and has direct oversight over the office of the Public Defender.
As an MP, Lali initiated many important pieces of legislation. She introduced an amendment to the Criminal Code of Georgia defining ill-treatment, inhuman or degrading treatment for detainees, and brought in new rights of visitation and inspection for prisoners in Adjara. She is responsible for a new law on the 'Fight Against Trafficking in Human Beings,' establishing provisions for prosecution, for the prevention of trafficking and the protection of victims. She has also proposed several changes to employment law, legislation governing tourism, advertising, and many other measures.