Larysa Matvieieva, 2010 Fellow
Legistlative Advisor to the Vice Chairman of the Verkhovna Rada of Ukraine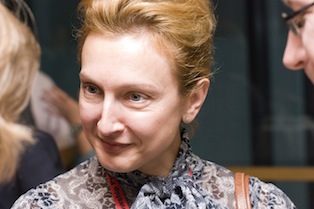 As a Legislative Adviser to the Vice Chairman of the Parliament of Ukraine, Larysa monitors the legislative schedule, ensures compliance with the parliamentary process, and makes recommendations to the Vice Chairman regarding particular issues under review. She bears overall responsibility for evaluating the political outcomes of legislative proposals, provides independent policy analysis and review, develops solutions, and generates ideas.
Larysa liaises with relevant bodies of the Executive branch on matters related to pending legislation as well as with international organizations and legislative branches of foreign governments.

She is responsible for the professional development of half a dozen junior staff members focusing their career development on effective governance, accountability, and transparency whether dealing with constituents' requests, members of parliament, or government agencies.