Lesia Vasylenko, 2017 Fellow
Founder and Chairwoman of the Legal Hundred NGO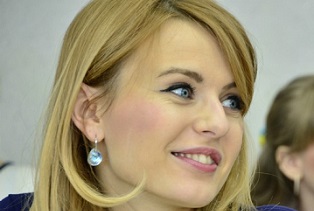 As founder and chairwoman of the NGO, Legal Hundred, Lesia has been working to ensure the respect of veterans' rights in Ukraine. Since the beginning of the conflict in eastern Ukraine, Lesia has set up a network of lawyers specialising in veterans' social benefits, created a legal aid hotline and is set on developing a network of regional legal assistance centres, all of which make up a system of more accessible legal assistance to the community of half a million veterans in Ukraine.
Lesia is the author of a user-friendly guide on veterans' rights, which is being used by government bodies, NGOs and veterans across the country and is the single unified source of information on veteran rights in Ukraine. She has pushed for change in the process of receiving combat veteran status – this has solved the problem of the backlog of applications for this status which then gives the right to apply to benefits.
The current focus of Lesia's work is the development of a systemic national action plan on the social adaptation and rehabilitation of veterans of the conflict in the East of Ukraine. Lesia has been successful at developing a concept for this action plan and now is working on formulating specific steps and budgets of the action plan. The aim of her JST action plan is to introduce realistic and effective veteran social policies, allowing full re-integration of ex-combatants into civilian life.