Maksat Keshiyev
Head of Reporting, Information and Technologies Division of Interbank Currency Exchange in the Central Bank of Turkmenistan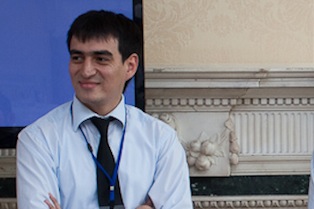 Maksat Keshiyev is the Head of the Reporting, Information and Technologies Division of the Interbank Currency Exchange of Turkmenistan (ICET) at the Central Bank of Turkmenistan. In this position Maksat´s main duties involve accumulating data from incoming applications with regards to buying and selling currencies from commercial banks, inspecting applications related to construction projects (one of the biggest kinds of investment activity in Turkmenistan), and controlling the Bank´s core accounts.
Maksat formerly worked as a Chief Specialist for ´Daykhanbank´, the Standard Chartered Bank of Turkmenistan, serving in the agricultural sector. He has an MSc in Economics from the National Aviation University in Kiev, Ukraine.
Maksat believes that with the rapid development of market relations in Central Asia, particularly Turkmenistan, there is a necessity to expand bank products and financial services to market participants in the region. He hopes to learn from his counterparts in the UK so that upon his return to Turkmenistan he is able oversee the introduction of such innovations in the financial sector.