Maksym Shkilov, 2002 Fellow
Managing Partner at Wecanomy, Junior Chamber International (JCI), Kyiv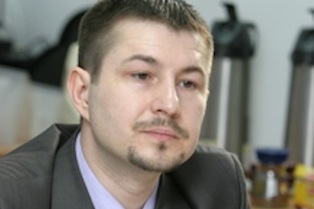 Maksym is Managing Partner at Wecanomy, a finance and business training centre in Ukraine and is President of the Junior Chamber International (JCI), Kyiv. JCI´s mission statement is to "offer opportunities for development – so that young people were able to create their own change for the better".
Maksym is formerly the Dean at the Ukrainian Graduate School of Business
Maksym graduated from London Metropolitan University in 2001 with MA in Social Science.
He previously worked as National Business Trainer at Nemiroff Vodka company, and later for Lasca Leasing Company (Parex Group) as Head of Sales. At the time of the 2002 Fellowship Programme Maksym was a Head of Youth Department within the Mariupol City Council.