Manana Mananyan
Translator/Interpreter for Medicins Sans Frontieres (MSF), Armenia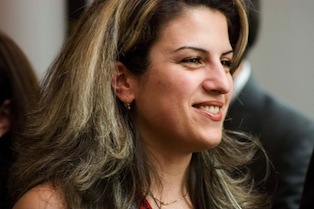 Manana is currently working with Medecins Sans Frontieres (MSF), France which implements Tuberculosis Project in Armenia. She works as an Interpreter/ Translator for the expatriate staff of Northern Marzes Project office.
Manana is also the Fundraising Coordinator at "Orran" Benevolent NGO in Vanadzor. The centre provides social, educational, medical, psychological support to social disadvantaged, orphaned children and families, www.orran.am. Her work involves attracting local and international donors to support the activities of the centre.
At the time of the 2007 Programme, Manana worked for the National Democratic Institute (NDI), a non-profit organisation which aims to strengthen and expand democracy worldwide. As Regional Co-ordinator of the Vanadzor office, Manana implemented various initiatives such as the Political Culture Strengthening Program aimed at engaging young people in the political process.