Maria Sadoyan
Researcher at the Office of the OSCE Representative on the Freedom of the Media, Vienna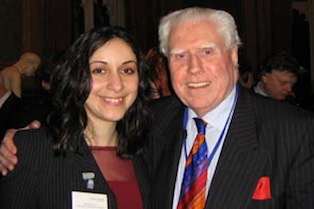 Maria took the position of researcher at the Office of the OSCE Representative on the Freedom of the Media in Vienna in April 2013.
Prior to this she was Communications Manager at the British Embassy in Yerevan, Armenia. Her responsibilities included developing the Embassy's public diplomacy strategy, organising public events, articulating the UK Foreign and Commonwealth Office's policies and positions, writing press reviews and briefings, and organising interviews, briefings and press conferences.
At the time of the 2004 Fellowship Programme, Maria worked as a journalist for the ARKA News Agency covering social, educational and health issues. She completed an MA in International Relations at Metropolitan University (London) in 2006/7, followed by a Communications role at World Vision Armenia.