Marina Cherenkova, 2011 Fellow
Assistant to the Minister of Regional Development and Communal Services and Contractions and Member of the Ukrainian Delegation to the Congress of Local and Regional Authorities of the Council of Europe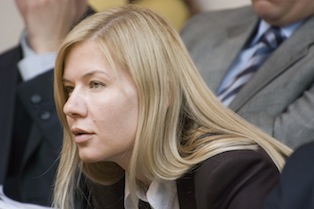 Marina is Assistant to the Minister of Regional Development Communal Services and Contractions. She was previously Deputy Governor of the Donetsk Region of Ukraine, an industrial region with a population of 4.5 million. Marina is also a member of the Ukrainian delegation to the Congress of Local and Regional Authorities of the Council of Europe (2011-2012) by Presidential Order.
Marina has been actively involved in regional development since 1996. From 1996 to 2000, Marina managed the Developing Mining Settlements and Towns project of Ukruglerestrukturizatsiya and the Department for International Development with a total project cost of £3 million. Following this Marina worked for Birks Sinclair Ltd (2001-2002) as project manager developing the mono-industrial territories in Donetsk with a total project cost of £2 million. She then worked as a Project Manager for WYG International Ltd UK, managing a Department for International Development project called The Socio-Economic Revival of Donbass.

In 2002, Marina established an association of analytical organizations called 'Socio-Economic Strategies and Partnerships', an NGO working to facilitate the development of civil society in Ukraine and the only institution in the post-Soviet territory accredited as the implementer of the Youth Business Ukraine Program under the auspices of Prince Charles. She is a member of the Board of Trustees of the Youth Business Ukraine Programme and recently became a member of the Youth Business International's Chairmen's Council.
Marina hopes to use her Fellowship experience to learn about the best practices of local councils and their decision making processes including how policies are developed and how resources are allocated. She wants to establish a coherent framework at local level for the provision of public services and policy making in the Donetsk region of Ukraine, with possible dissemination to other regions.