Marina Mkhitaryan
Programs Manager for the Eurasia Partnership Foundation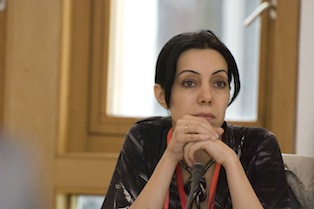 Marina Mkhitaryan is a media and development specialist with more than 11 years experience managing media outlets, NGOs and development programs. Her strengths include media program design and project management with a particular focus on media and civil society. Marina has a dual degree from Yerevan State University in Philology and Law. She has also completed a mid-career course on International Law and Legal Studies at the Fletcher School of Law and Diplomacy (Tufts University, US).
Marina joined the Eurasia Partnership Foundation in 2005 and has since then managed two of the organization's core programs. She has designed and managed large-scale programs developing regional print media outlets and fighting corruption in Armenia.
Marina is a board member of the Professionals for Civil Society NGO, the legacy NGO of the World Learning International, and has experience as a trainer in communications, negotiation, leadership, CSR and fundraising.