Mikalai Anishchanka
Journalist and Director of the Press Club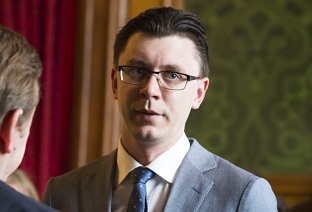 Mikalai is a Minsk-based international journalist. He has an established track record of covering world news for the national media as well as Belarusian and regional developments for foreign media.
He serves as the Director of Press Club, the new type of NGO in Belarus aimed at fostering the development of a competitive media market, bolstering professional journalism and building trust among diverse national actors. The Press Club's strategy lies in bringing people—the media professionals on one side, and think tankers, NGOs, entrepreneurs, different echelons of the government on the other side—together for wide-ranging dialog, which ultimately will promote benefits of positive political and socio-economic transformations in Belarus.
Mikalai combines his full-time involvement at Press Club with working as Belarus correspondent for Anadolu news agency (Turkey), and occasionally serves as a fixer for foreign media outlets covering Belarus and Ukraine.
As a reporter and a fixer, he has worked with a series of world-famous media brands, such as The Guardian, Vice News, International Business Times, ARTE, Anadolu, Canal+, Eurasianet.org, Los Angeles Times, Kommersant, etc.
Mikalai's overall objective is to provide an alternative source of debate and discussion on daily national news issues with the aim of increasing the range of opinion and views the public is exposed to. His action plan is to launch a new programme broadcast live on social media platforms – open debates with a range of participants from civil society, academia and government that will provide unbiased coverage of national developments representing this broader range of views.