Mykhaylo Chaplyga, 2004 Fellow
Councellor of the Commissioner of the Verkhovna Rada of Ukraine for Human Rights (Councellor of the Ukrainian Ombudsman)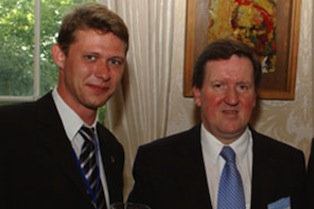 Mykhaylo plays an active role in public life.
In 2012 he was appointed to the position of the Counsellor of the Commissioner of the Verkhovna Rada of Ukraine for human rights (Counsellor of the Ukrainian Ombudsman).
Other positions he has held include: Secretary of the Political Council of the Peoples´ Movement "Third Republic" (Labour movement); President of the All-Ukrainian NGO "Ukrainian Falcons" (Member of the Socialist Educational International), President of P.A.C.E. (Participation and Active Citizenship in Europe), Leader of the Left Youth Forum in the Youth Forum of Ukraine, and Director of the Political Analyst Centre "STRATAHEMA" and web newspaper "POLITHE".
At the time of the 2004 JS Fellowship Programme, he was Parliamentary Assistant to a Ukrainian MP of the Socialist Party of Ukraine, and Vice President of the Union of Young Socialists of Ukraine.