Mykhaylo Nakhod, 2005 Fellow
PhD Candidate at Lviv Regional Institute of Public Administration, National Academy of Public Administration and Chairman of the Centre for Political Analysis and Electoral Consulting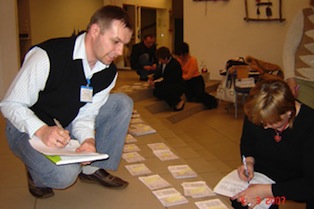 The main focus of Mykhaylo's work is on building political parties, civil society, political campaigning and elections.
He is Chairman of the regional analytical NGO "Centre for Political Analysis and Electoral Consulting". The Centre analyses state and regional politics and assists political parties and politicians to prepare for electoral campaigns.
Mykhaylo is a PhD candidate at the L'viv Regional Institute of Public Administration of the National Academy of Public Administration (since November 2008).
He was previously Chief Executive of the Volyn Regional Organisation of Peoples Union "Our Ukraine" Political Party, coordinating the Party's regional election campaigns and developing party policy.
At the time of the 2005 Fellowship he was political and NGO activist and assistant to a Member of Parliament of Ukraine.