Natalia Sontu
Advisor on the GIZ Project for the Modernisation of Local Public Services in Moldova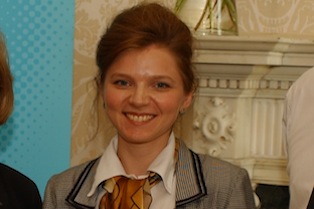 Natalia is an Adviser to the GIZ Project "Modernization of Local Public Services in Moldova". The goal of the project is to strengthen the capacity of selected communities in Moldova in order to improve the provision of public services.
GIZ: Deutsche Gesellschaft für Technische Zusammenarbeit (German Buro for Technical Cooperation) was founded in 1975 and operates in the field of international cooperation for sustainable development.
At the same time Natalia is studying to obtain her PhD in International Economic Relations from the Moldova State University.
Natalia was previously a National Expert on Community Development and Local Economic Development Programs for the National Assistance and Information Center for NGOs "Contact" in Moldova. The programs seek to contribute to rural community development through citizens' involvement in solving community problems. Natalia was previously Team Leader of the Democracy and Governance team for the USAID Local Government Reform Project – a USAID funded initiative aimed at increasing the autonomy, efficiency, accountability and transparency of local government in Moldova. At the time of the 2002 John Smith Fellowship Programme she was a Programme Specialist for the Local Government Reform Project, responsible for strategic planning activities in more than 100 communities in different parts of Moldova.