Natalie Tsnoriashvili
Legal Specialist in the Department of Justice, US Embassy, Tbilisi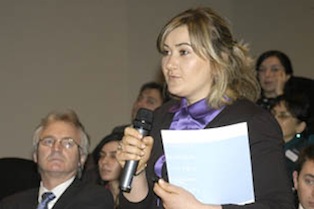 Natalie currently works as a Legal Specialist in the Department of Justice in the US Embassy based in the Georgian capital Tbilisi.
Natalie's JSMT action plan project – Monitoring Criminal Courts – was launched in November 2008 in Tbilisi and was expanded to two neighboring regions (Rustavi and Mtsketa) in 2010. The goal of the project is to identify systemic errors in the administration of justice and to provide recommendations for improvement. The project enjoys support from the Georgian government.
She works directly with the Resident Legal Advisor to assist the Georgian Government in the reform of the criminal justice sector and to implement assistance programmes. A Letter of Agreement is signed every year by the governments of Georgia and the US, identifying key areas for justice development which set the priorities for Natalie's work.
The main focus of Natalie's role is to promote human rights and good governance across the law enforcement agencies of Georgia. She identifies individual projects and assistance areas, and advises the Resident Legal Advisor on current Georgian legislation and practice. She reviews draft legislation and meets with Georgian government officials to negotiate compromise approaches when legal changes are problematic. In addition, she works to design and implement training programmes and public awareness initiatives.
As well as working to reform the criminal justice system, Natalie also focuses on developing key principles of good governance in criminal justice organisations. She does this by introducing assistance projects aimed at reducing corruption and improving efficiency, and assisting the Government of Georgia establish/institutionalize specialized units to investigate cases of money laundering, child pornography and human trafficking.
Nata has been an Election Observer for the OSCE Observer Mission on Parliamentary Elections in Georgia, the Presidential Elections in Georgia and the Presidential Elections in Azerbaijan.