Nataliya Gumenyuk, 2010 Fellow
Independent Journalist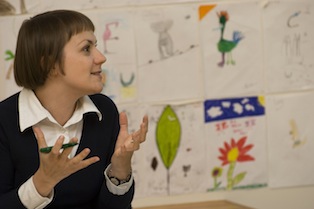 Nataliya is an independent journalist specialising in foreign news and events. She is a regular contributor to the BBC Ukrainian Service and the Ukrainian weekly magazine PROFIL. In addition, Nataliya works with a number of Ukrainian and foreign media agencies.
She teaches the 'War and Peace Reporting' course as a guest lecturer at the School of Journalism (National Kyiv Mohyla Academy) and Institute of Journalism (Kyiv National Taras Shevchenko University). Until 2010, Natalia was a Head of the Foreign News Department of the Ukrainian TV channel INTER. As a foreign news correspondent she reported on many major political and social events in 30 countries including Europe, the Caucasus, Central Asia, Balkans, Africa, Middle East, Iran, China, India, East Asia, Cuba, and the USA.
She is a participant of the civil campaign "New Citizen" which aims to strengthen the public's influence on, and involvement in, the political process in Ukraine.