Natalya Harutyunyan
Reading International Relations and Foreign Policy at the Fletcher School of Law and Diplomacy (USA)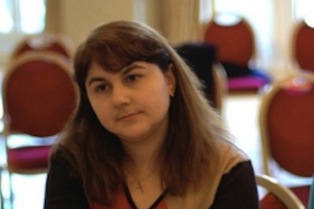 Natalya is reading International Relations and Foreign Policy at the Fletcher School of Law and Diplomacy (USA).
Before beginning her studies, Natalya was Project Coordinator for the following project – Strengthening the Human Rights Capacity of the Human Rights Defender's Office in Armenia (UNDP Armenia).
The project works to support the Human Rights Defender's Office (the Ombudsman). The main objective of the project is to contribute to an increased respect for human rights, rule of law and democracy in Armenia by strengthening the capacity of the Human Rights Defender's Office in Armenia, enabling the institution to efficiently carry out its mandate to promote and protect human rights in Armenia. By informing the Armenian population in remote areas on human rights issues and the activity of the Ombudsman, the project hopes to create a basis for preventing future violations of human rights.
Increasing public awareness on human rights issues is an important part of the project manifested in: thematic workshops, seminars and conferences; the production of different publications on human rights issues, their translation into the Armenian language and publication of textbooks on human rights; and the development of the partnership between the HRDO and civil society organisations and state bodies.
At the time of the 2007 Fellowship Programme, Natalya worked for the "NGO Center" Civil Society Development Organization. She is a founding member of the NGO Center.