Oleksandr Karnachev, 2017 Fellow
Deputy Head, Tariff Division of Ukrainian State Railways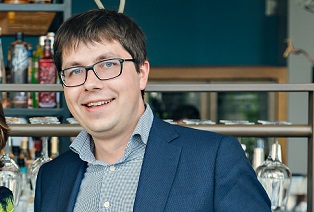 Oleksandr is the Deputy Head of the Tariff division in the Ukraine's state-owned railway company known as JSC Ukrzaliznytsia. Ukrzaliznytsia employs almost 300,000 people, transports almost 50 million passengers per year and maintains more than half of the freight transportation of Ukraine.
While his main responsibility is the development and implementation of the tariff policy for the railway freight transport in Ukraine, Oleksandr also develops the general strategy of the company as a part of the restructuring team.
One of the main targets of his team is to implement a modern style of management and reduce the impact of the old Soviet-style mentality in a state-owned company. It requires significant changes to the organisational structure and strong communication inside the company.
Oleksandr strives to develop the principles and standards of social responsibility and good governance inside the company. He believes it will unlock the potential of the railway as the engine of the Ukrainian economy.
Therefore, Oleksandr's action plan is to incorporate lessons from the UK's experience of railway privatisation and transformation ahead of a major reorganisation of Ukraine's railways. One particular focus is the introduction of sound ethical and compliance policies and practice, particularly with a view to improving governance in the freight business. The other area of focus relates to impacts on the labour force as a result of such a major reorganisation.