Olga Grygorovska, 2017 Fellow
Lawyer and reporter on International Law for Oxford University Press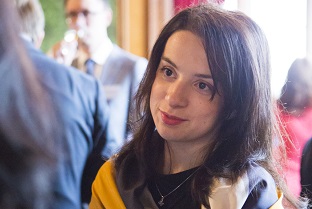 Olga works as a lawyer in the Ukraine and a reporter on international law for Oxford University Press. She previously worked as a leading expert in the Ministry of Justice of Ukraine and representing Government in criminal cases before the European Court of Human Rights. She has developed courses on the case-law of the ECtHR for the judges while working as a leading expert-coordinator in the OSCE.
She holds an LLM degree from Queen Mary University of London and worked for a number of human rights NGOs in London, including European Human Rights Advocacy Centre and Democratic Progress Institute. She has also served as a judge in the Price Media Law Moot Court competition at Oxford University.
Olga's action plan aims at providing guarantees of the right to a fair trial, right to privacy and freedom of expression specifically in the conditions of military conflict and terrorism threats in Ukraine through raising awareness and a series of consultations / trainings with domestic authorities. This would include issues of investigative measures which invade personal privacy, criminal procedure guarantees affecting access to justice and terrorism-related offences and definitions in domestic legislation.