Poghos Shahinyan
Executive Director for the National Road Safety Council Armenia and Head of the Secretariat for the National Road Safety Council (appointed by the Prime Minister)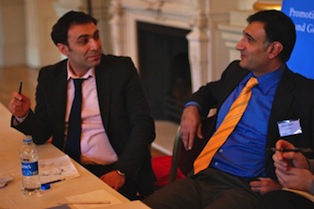 Poghos is the Director of the National Road Safety Council Armenia (NRSC) – an organisation he launched in 2005 with the assistance of his attachment host the FIA Foundation. The aim of the NRSC is to promote road safety awareness and to reduce road traffic accidents in Armenia. Poghos and the NRSC are working in active cooperation with the Armenian government, international organisations and private companies concerned with the improvement of road safety.
As a result of the NRSC's efforts, Armenia's dormant seat belt law was enforced for the first time in 2009, resulting in a 20% reduction in road fatalities and 12% decline in casualties in just one year. In March 2010, a decree by the Armenian Prime Minister formally established the NRSC as the secretariat of a new Road Safety Council of Armenia. This new body is responsible for overseeing and developing the country's National Road Safety Strategy and Five Year Action Plan for 2010-2015. Council meetings are chaired by the Prime Minister, and membership includes key government ministers, along with active civil society road safety campaigners.
In December 2010, the NRSC was awarded the 2010 Prince Michael International Road Safety Award.