Rafig Gurbanzada
Chief Officer for the Department of International Relations at the Ministry of Emergency Situations, Republic of Azerbaijan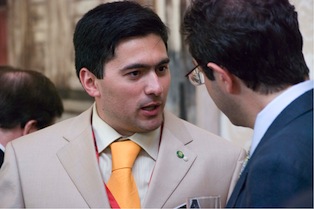 Rafig Gurbanzada is Senior Officer to the Ministry of Emergency Situations of the Republic of Azerbaijan. He has been fulfilling this position since 2006. Rafig is responsible for the coordination of international security projects.
Currently, Rafig is an MPA fellow at the School of Public Policy and Administration, University of Delaware. He studies emergency management, disaster response, fire safety, civil/homeland security of the United States. While there, he did his internship at the Delaware Emergency Management Agency.
During his years in the emergency management sector, Rafig became a graduate of the George C. Marshall European Center for Security Studies, the NATO School, Azerbaijan Diplomatic Academy and the BBK Academy.
At the same time, he pursues a part-time post-graduate programme at the Academy of Public Administration under the President of Azerbaijan Republic. He is a postgraduate student at the Department of Political Science and Political Administration.
Previously, he was involved in the NGO sector, working in the areas of conflict management, peace building, refugee/IDP and environmental issues.