Ramil Iskandaril
Founder and Chairman of Board of the "Legal Analysis and Research" NGO, Azerbaijan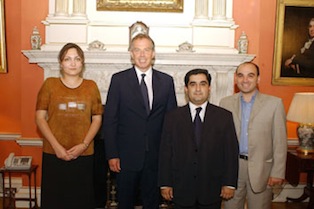 Ramil is the Founder and Chairman of Board of the "Legal Analysis and Research" (LAR) NGO based in Baku, Azerbaijan. LAR was established in August 2012, its mission is to learn more about the main legal issues in Azerbaijan and contribute to the process implementation of legal reforms. Ramil is also Chief of Party at the USAID Azerbaijan Rights Consortium project. Ramil consults periodically with international agencies such as the Council of Europe, World Bank, UNICEF and others, conducting research on legal policy, rule of law, democratization, human rights and good governance.
At the time of the 2005 Fellowship Programme, Ramil was Co-Founder of theAzerbaijani Young Lawyers Union (AYLU), a non-governmental and non-profit, independent youth organization uniting 700 law students, Masters students and young practicing lawyers. He is still a member of Board of AYLU. The focus of the organisation is on human rights and youth issues.
Ramil is a Chevening Fellow of 2008 having studied Human Rights Law at the University of Nottingham. He also studied for a Master of Law on Human Rights and Humanitarian Law at the European University Viadrina (Frankfurt Oder, Germany, 2010-2012).